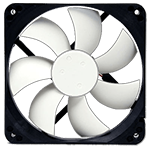 SpeedFan
Updated on January 18, 2023
Read system temperatures, check fan speeds, and monitor voltages. Plus, you can see the health of your drives.
| | |
| --- | --- |
| App Name | SpeedFan |
| Version | 4.52 |
| License | Free |
| Updated | January 18, 2023 |
| Compatibility | Windows 32-bit/64-bit |
| File Size | 2.94 MB |
| Category | Utilities |
| Publisher | almico.com |
| ISO file | No |
Review of SpeedFan
SpeedFan is an advanced application that provides temperatures, fan speeds, and voltages monitoring. Don't let this software intimidate you because there's nothing complicated here. If it's your first time using this handy app, invest some time learning what it does. The more you use SpeedFan, the more you discover about it. It's the expected learning curve situation in effect. Besides checking temps for various components and speeds of ventilators, this software is also helpful while troubleshooting Windows problems.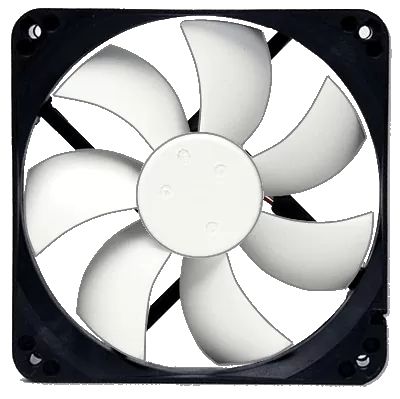 Decent tool for learning more about hardware
It's a proper tool for identifying common computer problems and working towards fixing them before the situation goes out of hand. Let me give you an example. If your computer's performance drops significantly, the problem is the processor's high temperature or low voltages. I'm not saying this is the rule of law every time, but it's a common issue because computer users don't clean the CPU cooler as often as they should to prevent processor overheating.
However, if the processor draws way less current than its graded power draw, the issue can be with wrong BIOS settings or a faulty motherboard. These are just two examples where you can take advantage of SpeedFan's feature set to identify computer health and performance.
Read temperatures and fan speeds
You can also see the temperature of your hard disks and even change the revolutions per minute of your connected fans. The fan speed control is possible by accessing the chip of your motherboard that sends the signal to your fans through the integrated PWM (Pulse Width Modulation) output. The user interface is rich with information about the current status of your computer. Here you will find the temperatures of your CPU and each core, hard drive, video card, AUX, and the overall system temperature.
Adjust fan speed
You can also control some fan speeds like the one for the CPU Cooler and other auxiliary fans directly from the app's main window. On the left side, you will find information about the current rotation speed of your fans. While moving to the next tab called Clock, you have the possibility of setting different clocks for your motherboard chipset. Follow my advice and only play with these values if you know what you're doing. Since the Internet is everyone's friend, you can use your favorite search engine to find information about chipset overclocking.
Check the health status of your drives
Another handy tool is the S.M.A.R.T. reader, where the user can select one of his installed hard drives and get information about its health and performance levels. These results have at their base different attributes, which SpeedFan has the possibility to identify and display for us to read. We can create charts for temperatures, voltages, and fan speeds by going to the last tab called Charts. Here we can select which data to go through SpeedFan's analysis engine. For example, you can pick to get a chart for the temperatures of your CPU.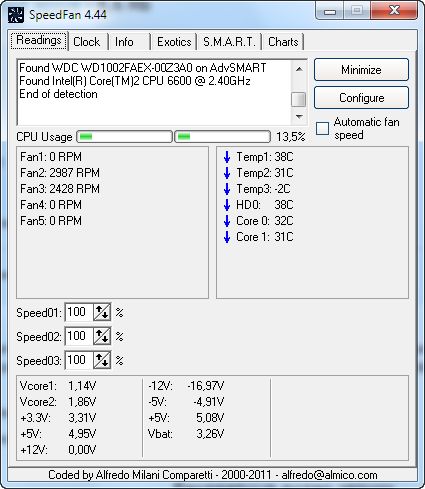 Some features of SpeedFan
Simple user interface;
Support for a wide range of hardware;
The possibility of creating charts for different data provided by your system;
Monitoring for temperatures, voltages, and speed fans;
The performance and health status of your hard drives.
Download SpeedFan for Windows