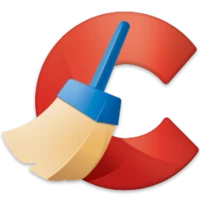 CCleaner
Updated on January 18, 2023
Optimize your Windows computer/laptop for better performance. Remove problems, unwanted files, and update drivers.
| | |
| --- | --- |
| App Name | CCleaner |
| Version | 6.07 |
| License | Free |
| Updated | January 18, 2023 |
| Compatibility | Windows 32-bit/64-bit |
| File Size | 50.85 MB |
| Category | Utilities |
| Publisher | Piriform |
| ISO file | No |
What is CCleaner?
CCleaner is the most popular free cleaning tool in the world. This software provides an easy and quick way to improve your computer performance, reliability, and security. It brings all the necessary components that allow users to maintain their computers in a proper functioning shape. This application is very good at removing undesired programs, duplicate files, browser cookies, cache files, temporary files, etc. When you navigate websites, your computer receives and stores many useless files that aren't important for a Windows system. You can also receive many unnecessary files while running software on your computer. CCleaner improves the overall performance of your computer by removing all futile settings and files from your system.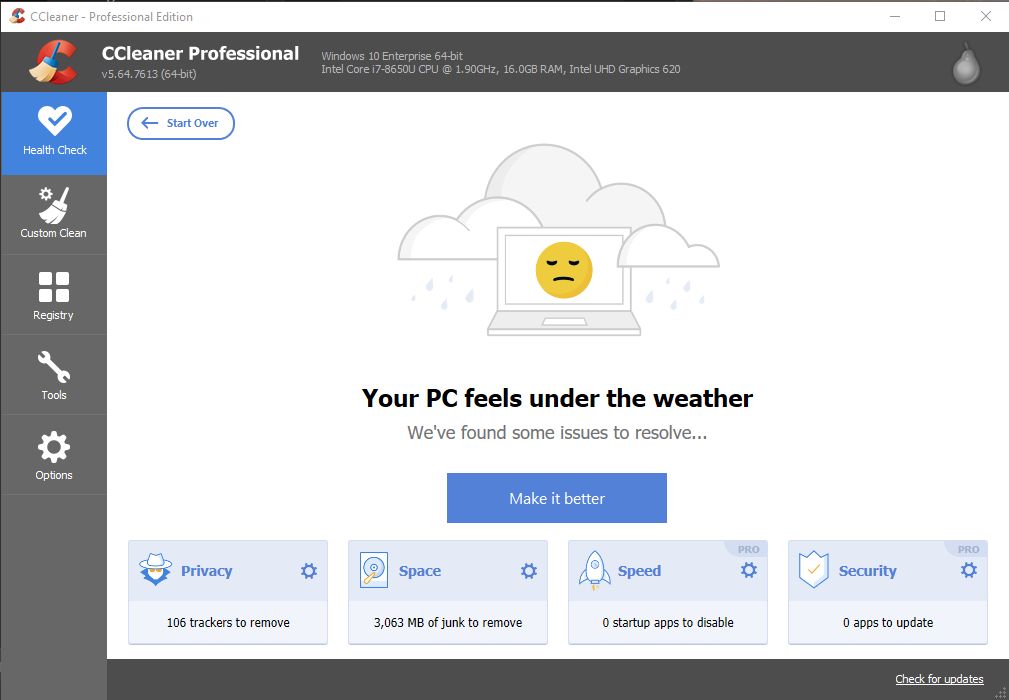 Optimize your computer for best performance
The user interface of this software is as friendly as it gets. Accessing each module and component is an easy task. All the user has to do is tap a couple of buttons and commands to start optimizing the system. For example, the Health Check function runs various scans on the computer to identify and fix current problems and potential issues. The more troubles are corrected, the better. If your system is less performant due to wrong settings, unwanted files, and out-of-date software drivers, this software can fix many of these problems and speed up the Windows machine.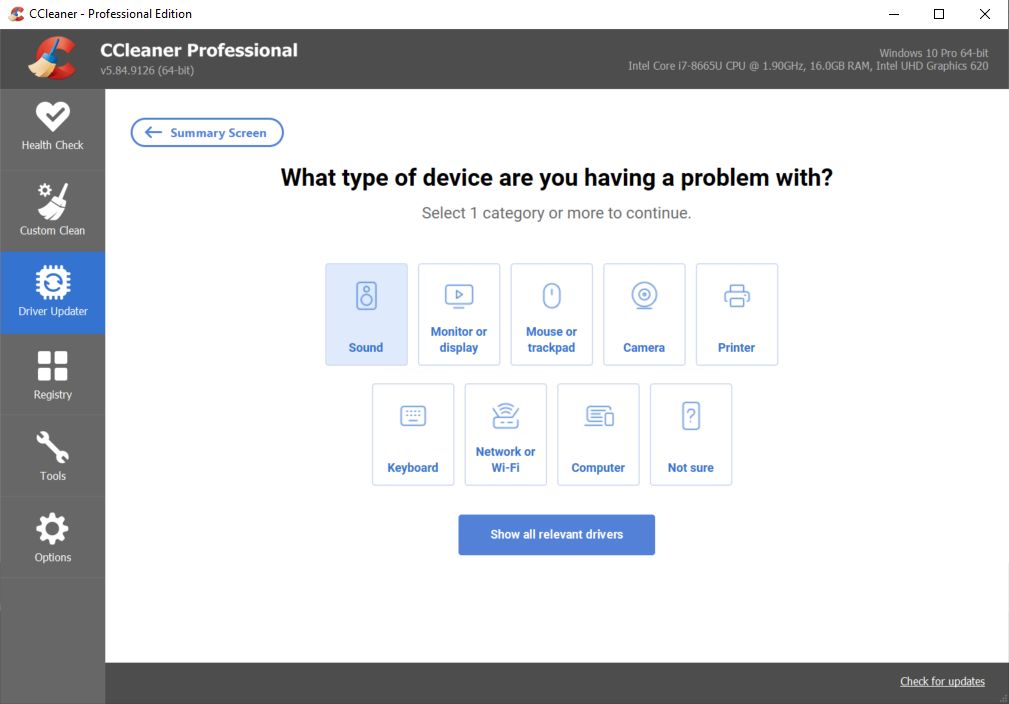 Maintain privacy while visiting web pages
Do you know that websites collect private information while users surf the Internet? Many advertisers track online user behavior with cookies. To maintain privacy and security, it's a good practice to remove these tiny files as often as possible. CCleaner completes this task very quickly with no additional hassle. You can also find and remove unused applications with help from Startup Cleaner. By using this feature of CCleaner, your start-up time might improve. I like this component because it's cool when the Windows operating system loads quickly, so I can start working straight away.
Concerning security, CCleaner removes files designed to store navigation history, passwords, and cached data. This feature will prevent identity theft and online fraud.
System stability is key
The Registry Cleaner feature improves the stability of your system by identifying and fixing problems existent in your operating systems' registry. If we don't do anything about these issues, the system might become very unstable, a situation that leads to the system crashing. Not only does CCleaner fixes registry problems, but it also removes outdated system drivers and replaces them with fresh ones to make the system even more stable. All options and tools of CCleaner are customizable, but you can also use this software with the default settings as recommended.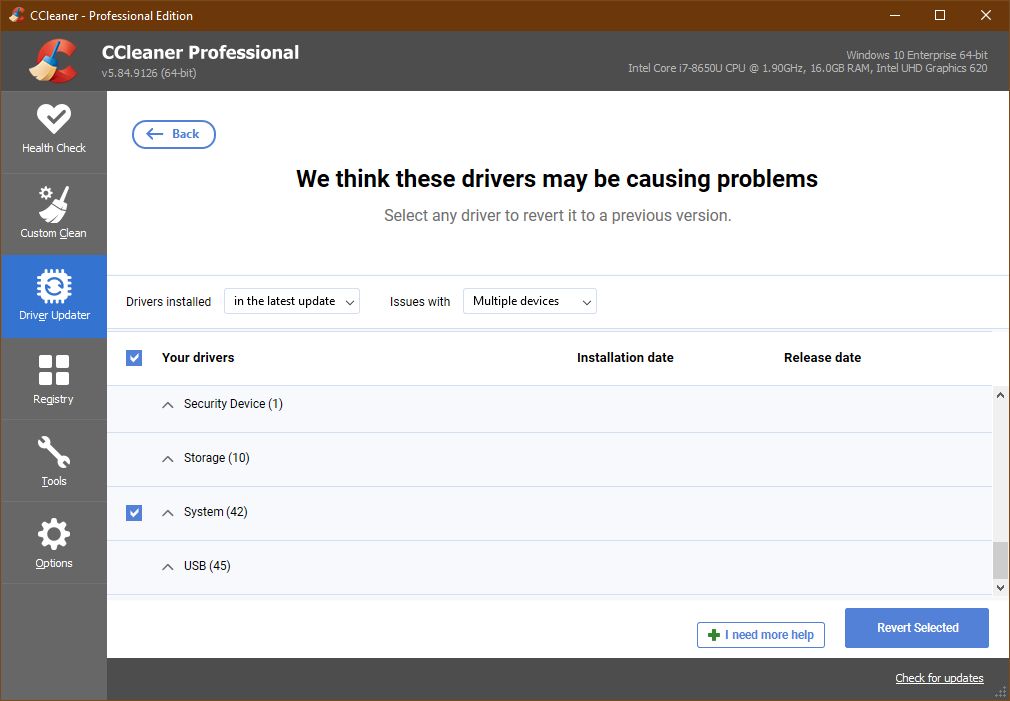 Detect old drivers and replace them with newer ones
Allow me to tell you more about the integrated Driver Updater. This application has one of the best modules for checking the drivers present on the computer. Thanks to a database containing more than 25 million device drivers, we can fix hidden security issues, enhance system stability, improve audio and video performance, etc. Overall, CCleaner is a must-have tool for everyday computer users.
Some features of CCleaner
clean and easy-to-navigate user interface;
secure browsing by cleaning unnecessary files;
highly customizable cleaning;
regular updates;
computer speed and stability increase;
easy to install.
Download CCleaner for Windows