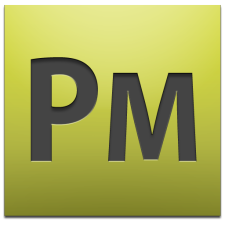 Adobe Pagemaker 7.0
Updated on April 7, 2023
Create professional-looking posters, flyers, magazine covers, and more with this application. Install and use!0.
| | |
| --- | --- |
| App Name | Adobe Pagemaker 7.0 |
| Version | 7.0.1a |
| License | Trial |
| Updated | April 7, 2023 |
| Compatibility | Windows 32-bit/64-bit |
| File Size | 64.1 MB |
| Category | Graphics Editors |
| Publisher | Adobe |
| ISO file | No |
Description of Adobe Pagemaker 7.0
Adobe Pagemaker 7.0 is the application to use for producing quality designs with the intent to print them. Even though this software no longer receives Adobe's support, many users still rely on its functionality to create posters, flyers, reports, magazines, and so on. Thanks to the features and functions contained within Pagemaker 7.0, we can add text and graphics to our projects.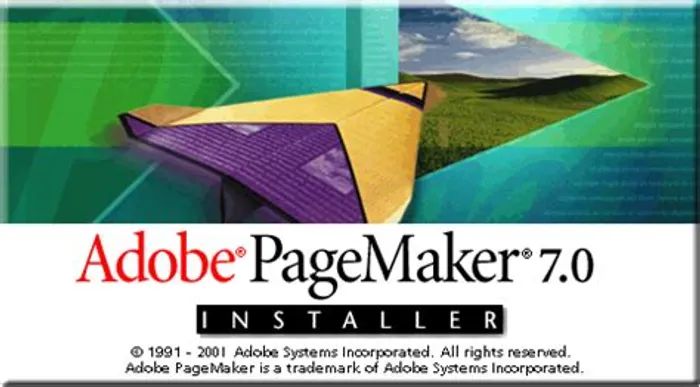 Easy to meet the hardware requirements
Before the user downloads and installs this program on his computer or laptop, there are a few things to consider. First, ensure the program is compatible with the operating system, and second, you meet the hardware requirements. This computer program works for sure on Windows XP and earlier versions. However, its compatibility with Windows 7, 8, 10, and 11 is up for discussion. The hardware demands aren't intimidating at all. The computer must have a minimum of 32MB of RAM, an Intel Pentium processor or better, minimum free drive storage of 175MB, and a graphics solution able to deliver 800 x 600 resolution and 8 bit / 256 colors or better. It's not challenging to meet these minimum system requirements unless you're using an outdated computer/laptop.
Create flyers, posters, and more
If you don't consider Adobe Pagemaker 7 modern enough for your needs, the other alternative is to download Adobe's InDesign application. Both apps are easy to install if you follow the instructions in the setup wizard. Pagemaker's user interface keeps things simple. You can open existing projects by clicking File > Open and double click the target file. The GUI, short for graphical user interface, contains the Toolbox, workspace, horizontal and vertical rulers, pasteboard, color and style palettes, page icons, etc. The Toolbox's role is to provide the necessary functions and commands for inserting text, drawings, zooming in and out of the page, and more.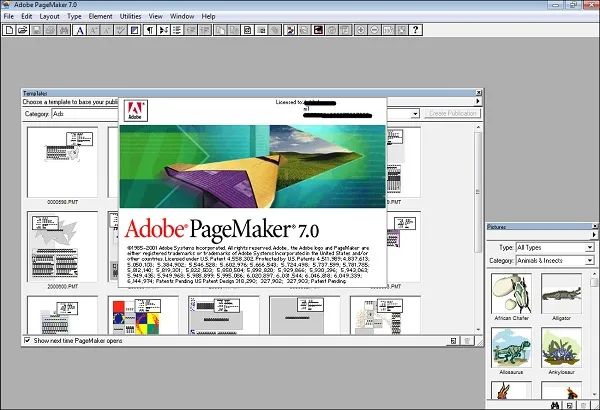 Insert graphics and text
When working with multiple objects and elements, things can go difficult. The Pasteboard section is there to allow users the ability to store and manipulate various elements as they work on their projects. In lame terms, we can use this feature to assemble graphics, text, and other visual elements into our projects. What's a magazine, a flyer, and a poster without eye-catching colors? Adobe Pagemaker 7.0 offers palettes for coloring and styling projects. In addition, these palettes also support working with layers, hyperlinks, and master pages. Activating one of these palettes requires the user to click on it. Simple as that.
Work with the two rulers
Another essential feature of Pagemaker is the ability to change the view of a publication according to actual size, fit in the window, etc. A good illustration relies on its designer to properly align all the items on the page. The application brings two rulers, one for vertical and the other for horizontal measurements. Importing graphics into projects is easy. The place command allows the user to import graphics, while the alignment is possible through the two rulers.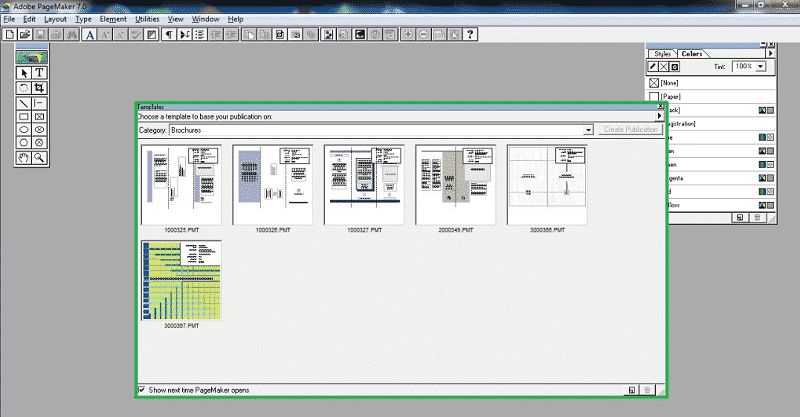 Import text into your projects
And now we're reaching the moment of adding text. You can write the text in your favorite word-processing program and then insert that text into your projects. I don't know how compatible Pagemaker is with modern versions of Microsoft Word, but you can rely on the RTF file format if things fail. Add the text, align it, apply some formatting, and save your work. This app works with some file formats, such as PMD, PM3, PM4, PM5, PM6, and P65. Besides, we can open some of these file formats with modern applications like LibreOffice or Apache OpenOffice. In conclusion, Adobe Pagemaker 7.0 is a solid but old application for creating designs for publishing purposes.
Download Adobe Pagemaker 7.0 for Windows