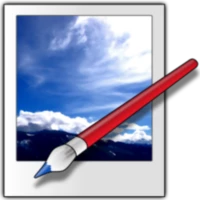 Paint.NET
Updated on April 7, 2023
Do you want to edit photos and other images for free? With this app, you can apply various effects, work with layers, etc.
| | |
| --- | --- |
| App Name | Paint.NET |
| Version | 5.0 |
| License | Free |
| Updated | April 7, 2023 |
| Compatibility | Windows 32-bit/64-bit |
| File Size | 1.06 MB |
| Category | Graphics Editors |
| Publisher | Washington State University |
| ISO file | No |
Review of Paint.NET
Paint.NET is a free graphics editor that requires .NET Framework to be present on your system. Even though this application came as a replacement to the popular Microsoft Paint, now, it has so much more features the user can take advantage of to handle pictures on the Windows operating system. Also, the developer still provides updates with bug fixes and brand new functions to maintain the userbase happily and loyal.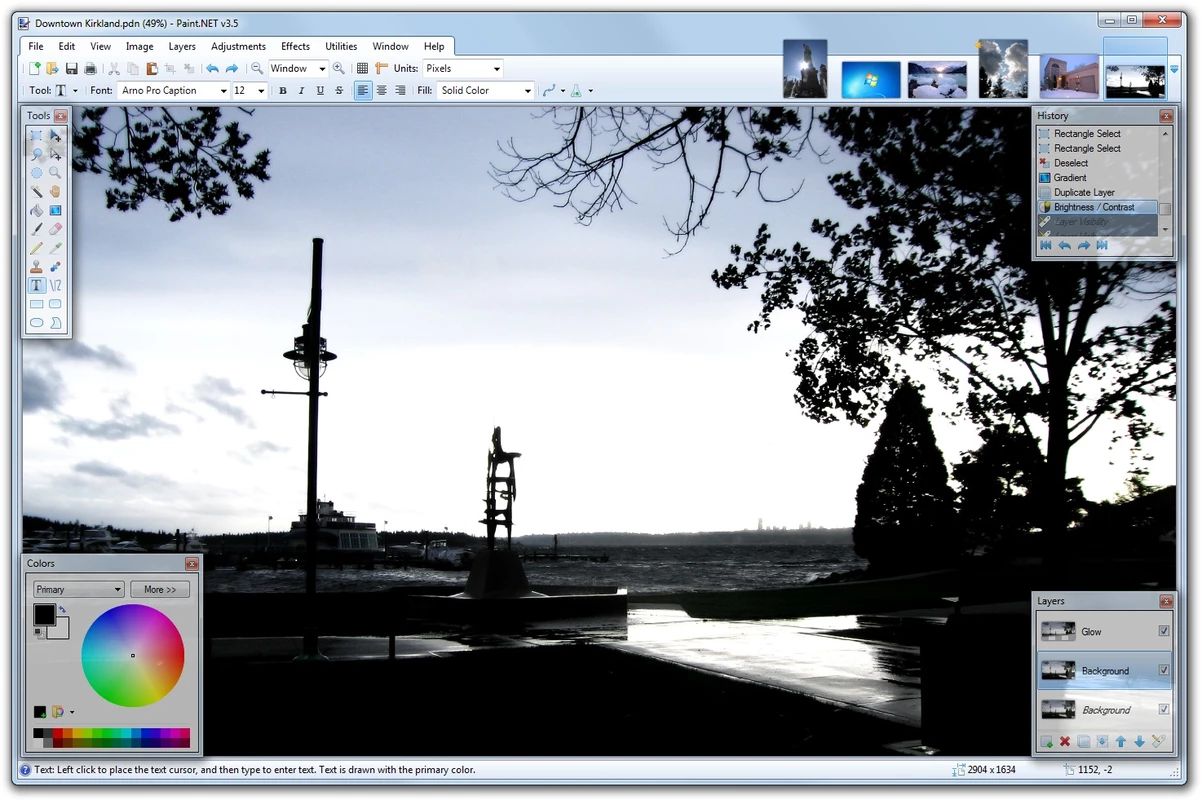 Performant photo editor
The development team behind the project invested lots of time towards making Paint.NET one of the fastest photo editors on the market. Even if your system is an older laptop, this app still works well on it, allowing you to modify the way pictures look. Also, its code is optimized for processors with many cores as well.
Edit graphics for free!
You can expect to find tools inside this program just like the modules brought by other image editing software. With Paint.NET, you can work on multiple projects simultaneously without using many system resources. The User Interface is well made and properly organized. It has support for layers and many image filters. If you sit back and think about it, the ability to work with many layers is a feature that usually is present on premium graphics manipulating software. But in the case of Paint.NET, users have access to this great feature without paying a dime.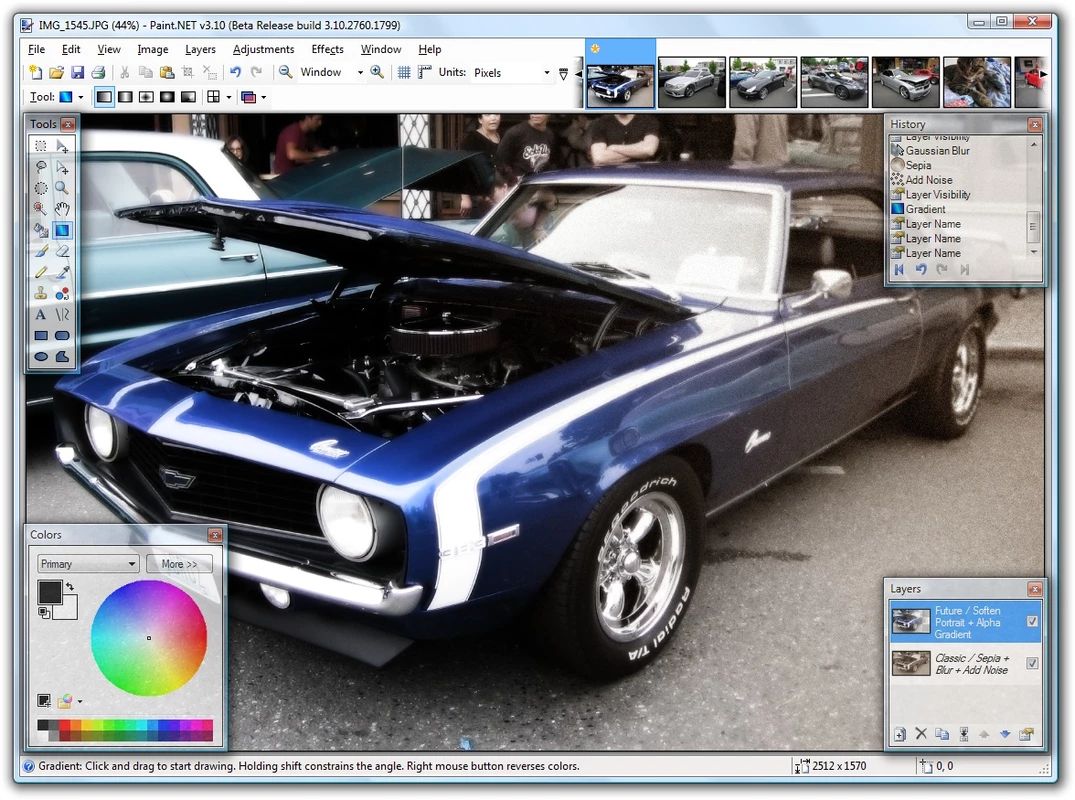 Support for layers for better results
The application allows us to stack multiple layers, one on top of the other, to add transparency and other effects. Even if it's completely free, this application receives automatic updates that fix bugs, add new functionality, and improve performance. To update the program to the latest version, all it takes is to click the mouse a few times.
Apply effects to your images
Concerning the included special effects, this editor brings enough to help you improve the images you're currently working on. Expect to find special effects such as noise, embossing, red-eye removal, distortion, blur, sharpening, etc. Besides, through the incorporated 3D Rotate/Zoom effect, we can give our project a unique perspective. Want more functions to use? Check out the adjustments section because over there, you can change the way a picture looks by changing small parameters like brightness, contrast, saturation, hue, levels, etc.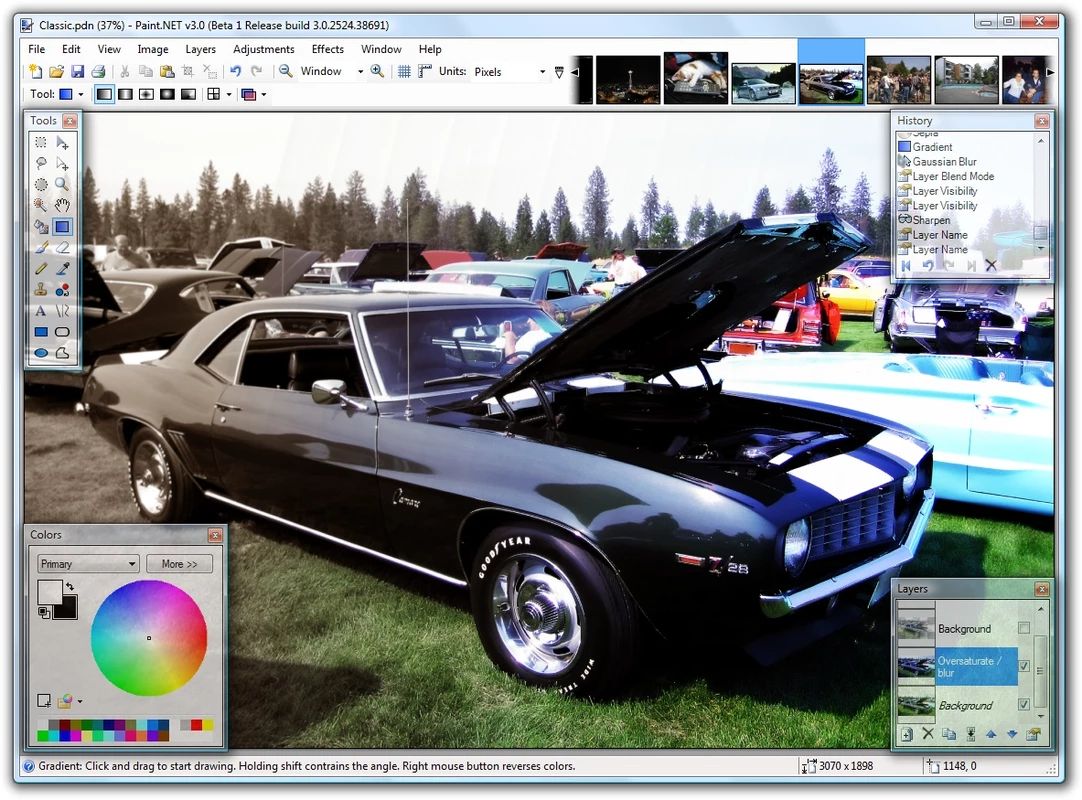 Additional features
Paint.NET brings many simple tools for drawing shapes. Its gradient tool it's innovative compared to a similar function available in similar software. Using the magic wand, users can select areas of similar color. Do you want to copy specific portions of an image and paste them somewhere else in your project? To achieve this task, use the Clone Stamp tool. The same handy tool allows you to remove portions of a picture.
Another essential feature is the History panel. Inside this little window, you will find an ordered list of actions you took inside the editor. This function allows you to undo and redo actions, and it can remember actions depending on free disk space. If you want the program to save many of these changes, ensure enough free storage space on the hard drive/solid-state drive.
Download Paint.NET for Windows