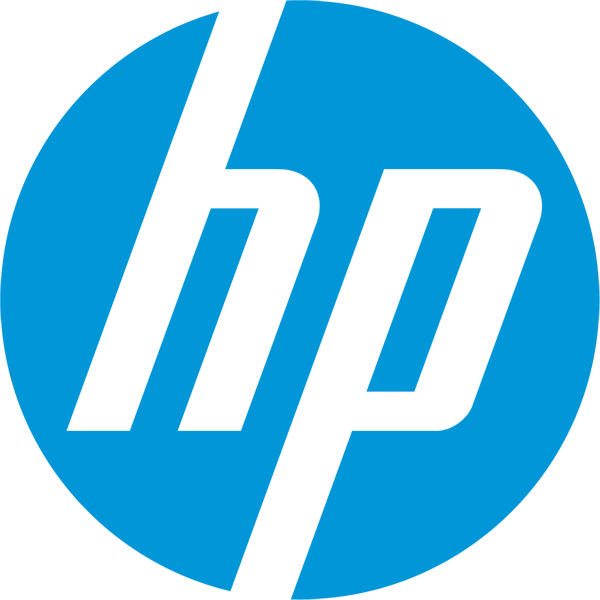 HP LaserJet M1136 MFP Driver
Updated on April 7, 2023
M1136 is marketed towards homes and small and medium businesses due to its printing and scanning abilities.
| | |
| --- | --- |
| App Name | HP LaserJet M1136 MFP Driver |
| Version | 20180815_1 |
| License | Free |
| Updated | April 7, 2023 |
| Compatibility | Windows 32-bit/64-bit |
| File Size | 240.8 MB |
| Category | Drivers |
| Publisher | HP |
| ISO file | No |
About HP LaserJet M1136 MFP Driver
HP LaserJet M1136 MFP Driver is a software package containing different components and modules whose role is to make possible the communication between the M1136 printer and a computer. Without this program, we cannot enjoy the full features of our HP printing solution. This model is not your regular printer because it additionally handles copying and scanning. As long as you're seeking a solid offering for your household and small to medium office space, consider purchasing this multifunction printer.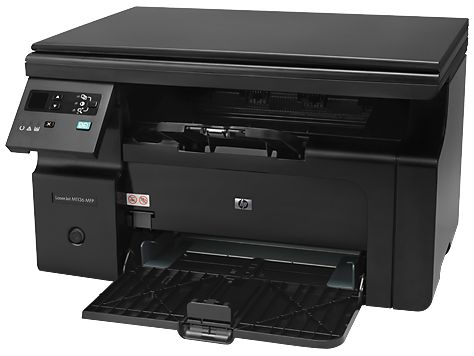 Compatible paper and other specs
We don't buy these products for the way they look. We want solid specifications and the printer model to deliver these specifications. HP LaserJet M1136 MFP utilizes laser printing technology to provide a great experience. Its input tray takes up to 150 sheets of paper, ten envelopes, and a maximum of 75 transparencies. There are also limitations for the output bin because you can't have an endless amount of sheets. And since I'm talking about sheets of paper, this printer accepts the following sizes: Letter, Legal, A4, Executive, A5, A6, B5, and 16k.
Supports printing on postcards and envelopes
If you want to print on envelopes, feed the printer the following compatible types: DL, #10, C5, B5, and Monarch. In addition, you can print on postcards with the following specs: Postcard (JIS): 100 x 148 mm (3.94 x 5.83 inches) and Double postcard (JIS): 148 x 200 mm (5.83 x 7.87 inches). The HP LaserJet M1136 MFP printer prints up to 18 ppm (pages per minute) for A4 and 19 ppm for Letter size sheets. Good print quality is at the mercy of the printing resolution. In this case, we work with a print resolution of 600 pixels per inch (PPI) for complex graphics, 150 PPI for photos, and 300 PPI for regular graphics and text.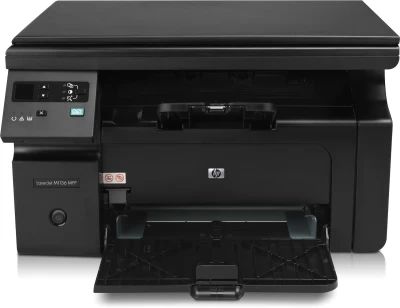 Scanner spec and how to install the driver
The incorporated scanner allows us to scan items and print copies. The copier works at 300 dots per inch (dpi) speed. M1136's built-in flatbed scanner can deliver a full-color scanning performance of up to 1200 pixels per inch (PPI). To properly install the HP LaserJet M1136 MFP driver, download the correct file for your operating system version, run the executable, and ensure you complete the necessary steps inside the window. Because this printer only has USB connectivity, please connect the cable between the model and the computer when required! After the installed finishes the installation of this driver, you can start printing and scanning.
Adjust the printing options after your demands
The printing preferences for M1136 are similar to other printer models, and that's not a surprise. You can change the page orientation, the number of copies, disable/enable duplex mode, pick different printing presets, restore the settings to factory parameters, etc. Even though LaserJet M1136 supports two-sided (duplex) printing and copying, we have to be the ones who take the paper and feed it back to the printer. It's not a big issue unless you want to print many pages in duplex mode.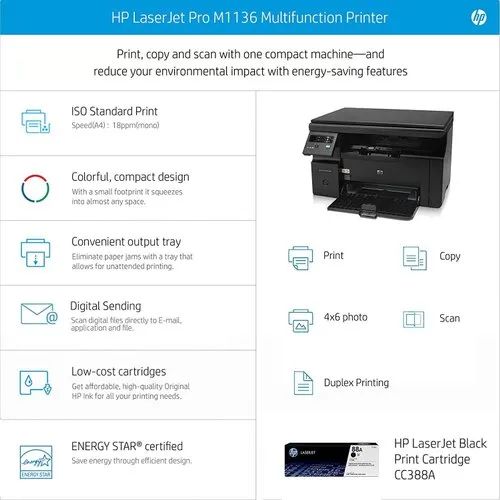 Configure your scanning tasks
The scanner software saves the scanned items in different file formats according to the scan mode used by the user. You are the one who decides between JPEG, TIF, and PDF formats. Keep in mind: that the higher the scan resolution, the more time it will take to complete the task. It also leads to larger files. In conclusion, having the HP LaserJet M1136 MFP driver installed on the computer or laptop is crucial for people owning this multifunction printer model.
Download HP LaserJet M1136 MFP Driver for Windows