Microsoft Security Essentials
Updated on April 7, 2023
Microsoft's standard solution for protection against viruses, malware, spyware, and other dangerous threats.
| | |
| --- | --- |
| App Name | Microsoft Security Essentials |
| Version | 4.10.209.0 |
| License | Free |
| Updated | April 7, 2023 |
| Compatibility | Windows 32-bit/64-bit |
| File Size | 14.37 MB |
| Category | Antivirus |
| Publisher | Microsoft |
| ISO file | No |
Review of Microsoft Security Essentials
Microsoft Security Essentials is a free antivirus solution provided by Microsoft to protect against many dangerous viruses, rootkits, trojans, and spyware. Picking the correct security suite can be difficult for users with little to no computer knowledge. The market has many competitors, all with various products ready for consumer use. Free antivirus software has a stigma of not being efficient as a paid application like BitDefender, Kaspersky Total Security, etc.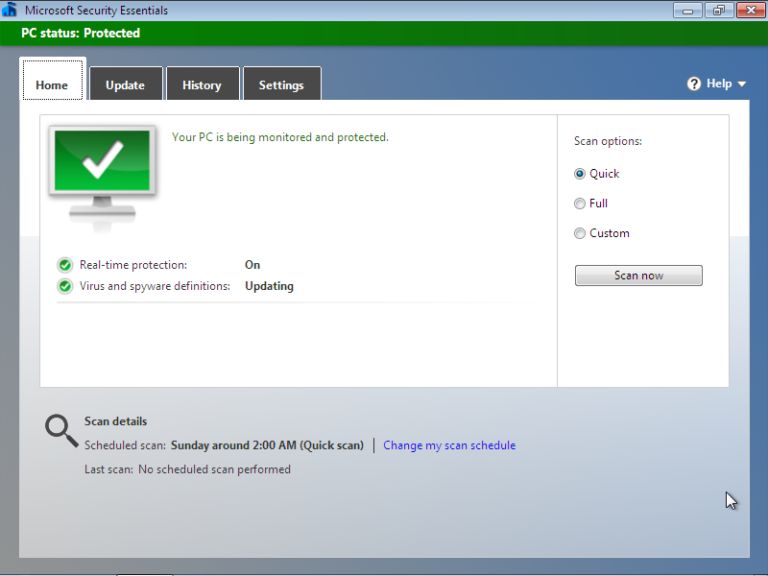 Solid antivirus protection for Windows systems
It is better to pay for a premium security suite because it provides additional modules like anti banner, virtual keyboard, VPN, private browsing, anti-spam, etc. However, if you can't afford to purchase something better, Microsoft Security Essentials offers the necessary functions, maintaining your personal computer and laptop clean from viruses. The more we browse the Internet, the more we expose ourselves to privacy and security attacks. Computer hackers are very inventive with their methods of system infection. Microsoft Security Essentials receives signature updates making the program very efficient at identifying and removing threats.
Detect viruses and other threats
This application offers real-time computer protection with good efficiency and low resource consumption. You always will be alerted when threats are present on your computer. It comes with rootkit protection, stopping this type of malware from taking control of your computer and spreading further. The kernel engine gets lots of scrutiny from the software to identify if any changes were made here by any malware. The user interface is clean and displays the status of the protection engine and other essential things like scanning methods, update engine, history, and settings.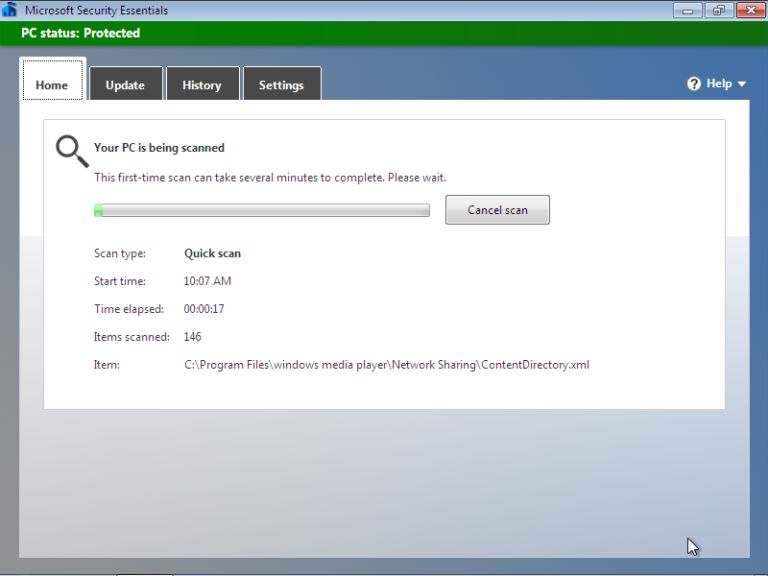 Scan the computer for malware
You have three available scan methods: Quick, Full, and Custom scan. Like other antiviruses, the Quick scan searches for malware in the most common infection places like memory, registry, system files, and applications and services that start on system startup. The full scan checks everything located on your computer without omitting anything. If you seek to scan specific files, folders, and locations, use the custom scanning mode because it does the proper job.
Delete viruses to keep the PC safe
When the antivirus engine finds a potential threat on the computer, the app provides a separate window, making it possible for users to read more information regarding the infection, such as the threat level and the recommended action the app must take against specific threats. Also, when the system is idle, Microsoft Security Essentials starts a scan all by itself. The lesser dangerous threats are available inside the Quarantine section, where the user can restore or delete them forever.
You can also configure how the application behaves when it detects an intrusion by changing the default actions in Settings. The program comes, after installation, with the optimal settings, and it will run an update and a quick scan.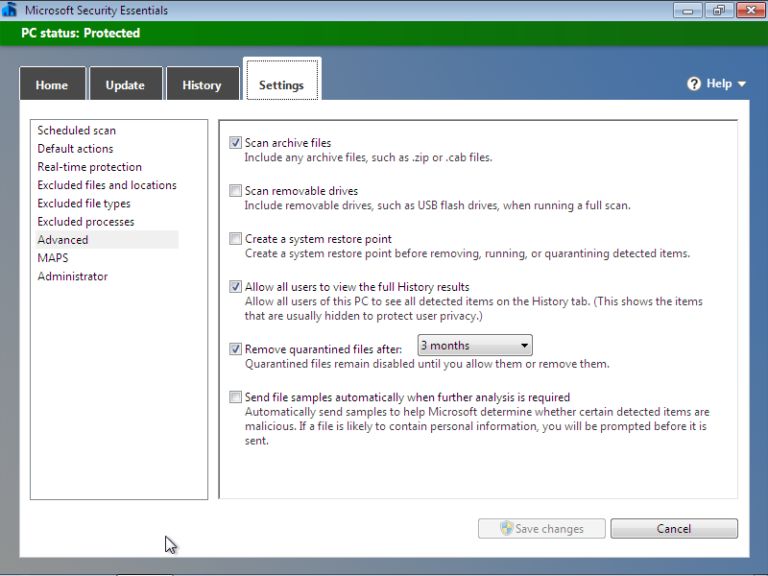 Some features of Microsoft Security Essentials
Simple and intuitive user interface: all the standard information and components are available on the main window;
Consistent updates: the application will always have the latest virus signatures and updates for the antivirus engine;
Completely free: you don't have to pay for extra modules and components;
Real-time Protection: the activity on your computer is always monitored;
Great detection engine.
Download Microsoft Security Essentials for Windows