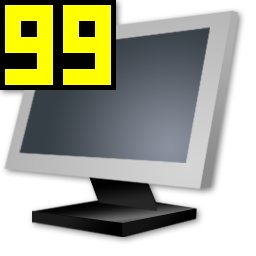 FRAPS
Updated on January 30, 2023
Record the screen of your computer to create gameplay videos, presentations, tutorials, and more with FRAPS.
| | |
| --- | --- |
| App Name | FRAPS |
| Version | 3.5.99 |
| License | Trial |
| Updated | January 30, 2023 |
| Compatibility | Windows 32-bit/64-bit |
| File Size | 2.22 MB |
| Category | Recorders |
| Publisher | Beepa Pty Ltd |
| ISO file | No |
Introducing FRAPS - screen recorder
FRAPS is an application that does the job of capturing videos and images from your computer. Most people use this software to benchmark and record gameplay. While we can download other screen capturing software from the Internet, FRAPS is pretty convenient because it supports DirectX or OpenGL graphic technologies.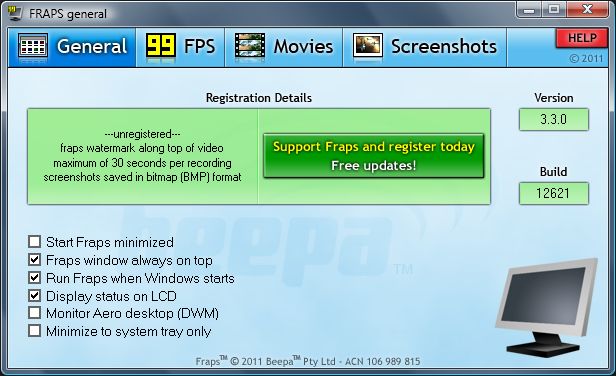 Record tutorials, gameplay, presentations, and more
Do you want to record videos of you playing video games? Do you want to record tutorials and video presentations for sharing with others? This software is what you need. However, its biggest drawback is the 30-second recording limit for the unregistered version. In addition, the app also adds watermarks on each video recorded while unregistered. Since FRAPS can also take screenshots, the unlocked version only allows the user to save the image in the BMP format. The only option to fully enable FRAPS is to purchase a license. Once you do that, the software runs with no limitations.
The app runs without requiring many system resources to ensure accurate benchmarking statistics. Another positive aspect of this software is its compatibility with Windows XP, Vista, 7, 8, 8.1, 10, and probably even Windows 11. I don't know about the latter, but you can download and install the software and see for yourself if it works or not.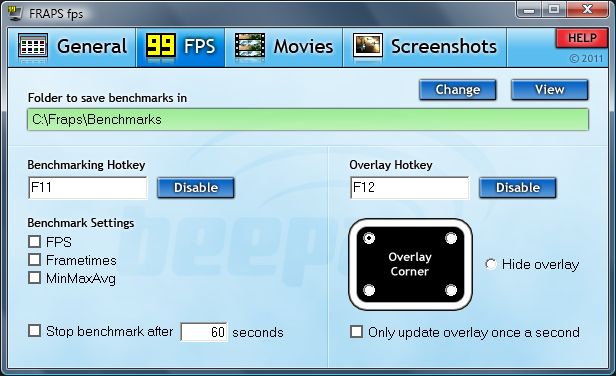 Simple to install software with a nice interface
FRAPS comes with an easy-to-install setup, allowing us to access its user interface, featuring a simple and intuitive window design. Inside the main window, you will find four different buttons, and each button opens a separate section of the program. The first panel is the General one. Here you will find information about the application version and build, the ability to configure Fraps to start minimized, etc. The second tab is all about the benchmark utility. Users can configure the output folder for benchmarking results, overlay position, benchmarks settings, and hotkey. The last two tabs are dedicated to video recording and screenshot capturing.
Choose hotkeys and the output file format
We can choose to save every screen capture into one of four formats: BMP, JPG, PNG, and TGA. You can also configure the program to take screenshots at a time interval. When it comes to video capturing, you can configure hotkeys, framers per second, etc. Some users utilize FRAPS's ability to display how many frames per second the computer can produce in video games to test various system configurations and components. One of the best ways to see how well a new video card performs is by measuring its performance in a few graphically demanding games.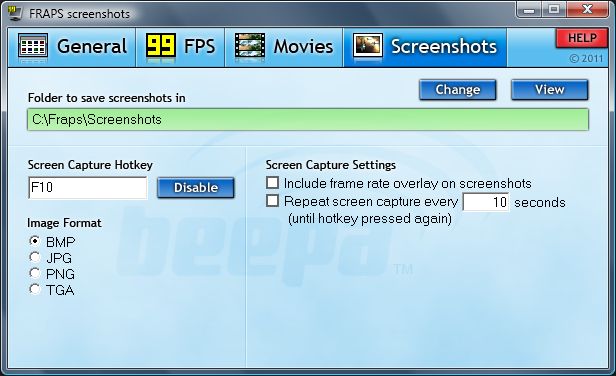 Be mindful with your settings!
Do you like playing fun video games and sharing the experience with other people? If the answer to that question is yes, FRAPS is an app you should consider installing on your Windows computer. With this program, you can capture audio and video with a screen resolution up to 7680x4800. Besides, the app also allows you to configure the frame rate used in the video recording. This value can vary between 1 and 120 frames per second. However, the higher the resolution and the FPS value, the more storage space the video file will require. Be mindful of that!
In conclusion, FRAPS is not only a great app for capturing what's on the screen but also a decent benchmarking utility.
Download FRAPS for Windows
Recommended Apps