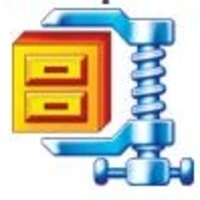 WinZip
Updated on April 7, 2023
Manage your files better by turning them into archives. Also, you can decompress various arhive file types quickly.
| | |
| --- | --- |
| App Name | WinZip |
| Version | 27.0 Build 15240 |
| License | Trial |
| Updated | April 7, 2023 |
| Compatibility | Windows 32-bit/64-bit |
| File Size | 73.67 MB |
| Category | Utilities |
| Publisher | WINZIP |
| ISO file | No |
Review of WinZip
WinZip is a popular application designed to compress and decompress files. This program supports many archive files like ZIP, Rar, 7z, GZIP, TAR, etc. You can only know how many formats work with this tool by downloading and installing it on your Windows machine. After all, many users use this handy software to create archives and decompress current ones. By default, WinZip provides a trial period, allowing us to experience and take advantage of each feature without paying a dime. However, for those who like the application and decide to continue using it, the requirement is to purchase the complete version.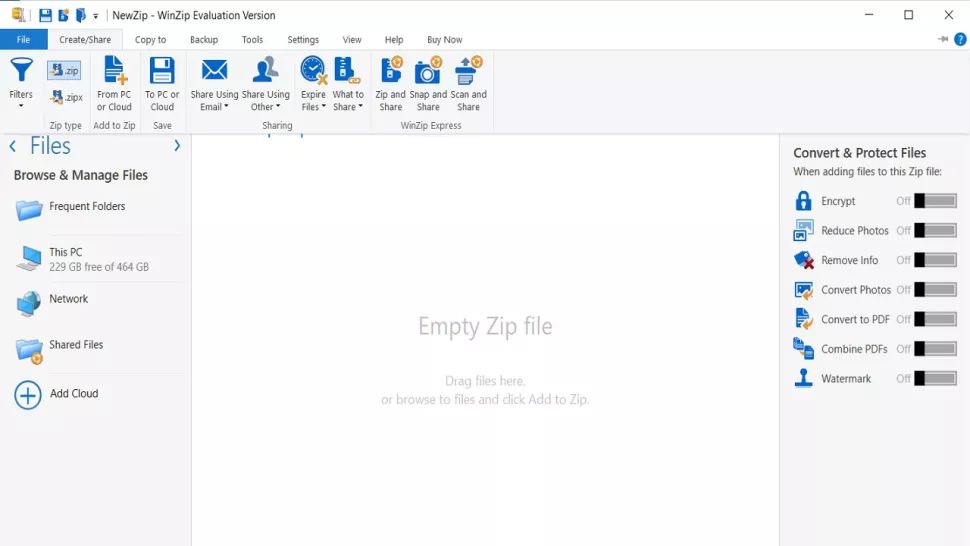 Work with archives on your PC!
Have you ever received a compressed file from co-workers, friends, and family members, but you don't know what to do with it? Many people go through this experience without knowing how to open and extract an archived file. If you know someone who goes through this exact problem, please recommend those people this application or one of its competitors.
In terms of design, it is worth mentioning that the graphical user interface brings a well-designed layout. Thanks to a beautiful and friendly design, users of all technical levels can take advantage of WinZip's features without facing too much hassle. Using this program, you can unzip all the major compression formats with just one click. File formats such as ZIP, RAR, TAZ, TGZ, ISO, IMG, and so on are not a challenge for this program.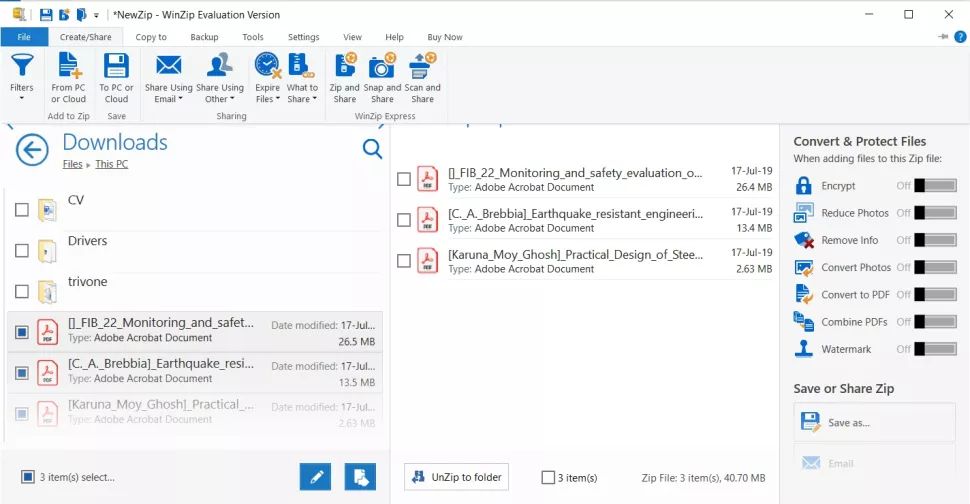 Compress to save space!
Why would a user decide to compress files into an archive? First of all, compression leads to a reduction in overall file size. Let me give an example. If I have 100 pictures and plan to share them with other people through email and whatnot, the best way to do so is by compressing all these files into an archive package. It's easy, convenient, safe, and sharable without becoming annoyed. Plus, we can add a new level of privacy thanks to WinZip's support for encryption. As the compression process happens, each user can activate the encryption option to enable more protection and enhance privacy. It's healthy to use this feature, especially when sharing crucial and sensitive data.
Reduce file size
In addition, if you have big data to compress and upload, you should consider using the multi-part zip file option because it works best. Another handy feature of WinZip is the possibility to reduce image file size and convert it to other image formats. Users that don't have lots of free storage space available on their devices will appreciate this function. The more you compress, the better because you can use the spare storage space to store additional files.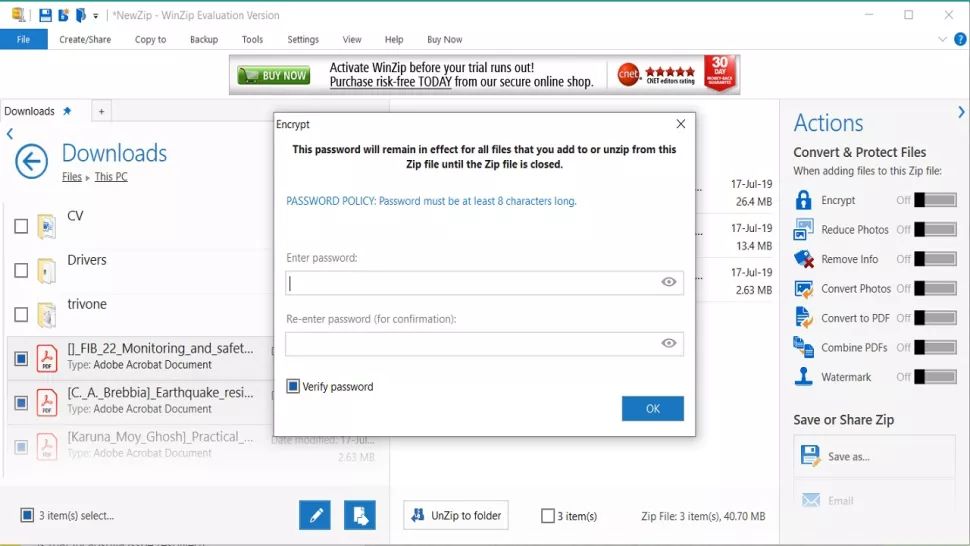 Optimize MP3 files for mobile devices
This fact applies to mobile devices as well. Compress MP3 audio files to reduce their size by 15 – 20% on average with no quality loss. Take things up a notch and remove the EXIF info on files before you decide to share them with other people. Overall, WinZip is a must-have program that handles file compression, decompression, and much more in one package. Please take advantage of its 256-bit encryption to protect data.
Download WinZip for Windows