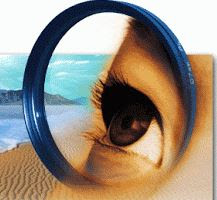 Adobe Photoshop 7.0
Updated on April 7, 2023
Edit images or create them from scratch with help from various masks, layers, shapes, text, effects, etc.
| | |
| --- | --- |
| App Name | Adobe Photoshop 7.0 |
| Version | 7 |
| License | Trial |
| Updated | April 7, 2023 |
| Compatibility | Windows 32-bit/64-bit |
| File Size | 160.5 MB |
| Category | Graphics Editors |
| Publisher | Adobe |
| ISO file | No |
Review of Adobe Photoshop 7.0
Since the invention of personal computers, many things are no longer the same. So many professions require the employee to do his job better and more efficiently. Decades ago, designing graphics involved more resources and people, but now, you can use an application like Adobe Photoshop 7.0 to perform the same tasks yourself. This software allows users to create and edit bitmap graphics on Windows computers and laptops. We can make use of Photoshop's impressive features to work with photographs, hand-drawn illustrations, images for websites, animations, slides, presentations, collages, and more. A program for completing many actions about graphics design.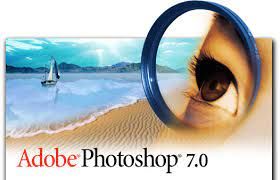 Edit photos straight on your Windows machine
Adobe Photoshop 7.0 has almost limitless possibilities. From retouching photos, correcting color and tone, and sharpening to artistic effects. The app is a must for personal and commercial use as well. Photoshop is the industry standard and guarantees the best result and maximum compatibility with other publishing programs.
Easy to install!
Installing this program on your Windows system is a straightforward process. Download the file, run the executable, specify where to install the application, and complete all the necessary steps to finish the setup. Compared to previous versions of Photoshop, this release brings various improvements. First, there's a new tool called the Healing Brush. With this brand-new component, we can apply light retouch to our photos to make them look better. It's not a game-changing tool for horrible pictures, though.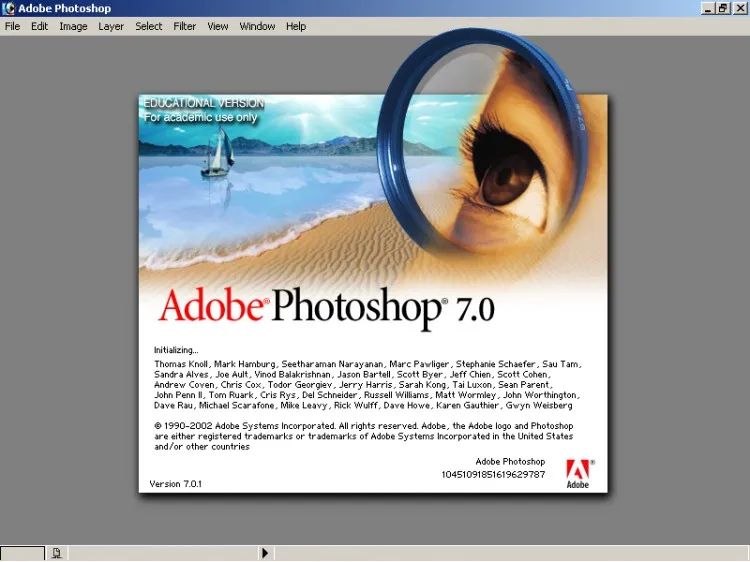 Check out its features through the intuitive interface
In addition, the app also provides Patch: a similar function to the Healing Brush, but this one works with a highlighted area. Second, some features are no longer available because they weren't that useful. There's no point in covering them. Since the user interacts with the program through the GUI, short for graphical user interface, PS7 comes with a friendly environment as long as you already have experience with this software. The upper section displays the essential commands to start projects, open files, manipulate graphics, etc. Photoshop 7.0's workspace contains the canvas, color palette, various functions, and more.
A plethora of tools and functions
Working with images takes a while. The user can select specific areas, draw over the picture, change color balance, etc. The application places similar tools in groups to speed up frequent actions. With a simple click on a tool group, you can access various functions and start working on your project. Each time you open a new group, the previous one will close. The background color is either white or black. You can switch between them with a single mouse click. Also, you can pick a different color any time you see fit. If you want to draw something yellow, for example, in your project, you need to configure the foreground color to be yellow.
Take editing up a notch by using masks and layers
Since Adobe Photoshop 7.0 supports layers and masks, let me cover these two topics for a while. A layer is like a transparent sheet over your current photo. We can use these layers to apply various modifications and remove them at any time if we are unhappy with the result. Masks are a form of layers that allow us to hide specific sections of a layer reversibly. These two components of Photoshop are crucial because we can take advantage of them to adjust the project on the go.
When the project is complete, use the save command to save your work in one of the available formats. In conclusion, Adobe Photoshop 7.0 is a solid graphics editor. It brings everything we need to create and modify photos.
Download Adobe Photoshop 7.0 for Windows
Recommended Apps