TinyTask
Updated on January 30, 2023
Speed up repetitive tasks by recording and running them in a loop. This app provides everything to make this work on your computer.
| | |
| --- | --- |
| App Name | TinyTask |
| Version | 1.77 |
| License | Free |
| Updated | January 30, 2023 |
| Compatibility | Windows 32-bit/64-bit |
| File Size | 35.5 KB |
| Category | Tools |
| Publisher | Vista Software, Inc. |
| ISO file | No |
About TinyTask
TinyTask is a freeware computer program designed to make life easier when recording and repeating actions. If you find yourself in a situation where you repeat the same tasks constantly, why not use this application to automate some of them? It can be troublesome to behave like a robot in front of the computer, and many users don't like it. With help from TinyTask, recording macros and repeating them is an easy task.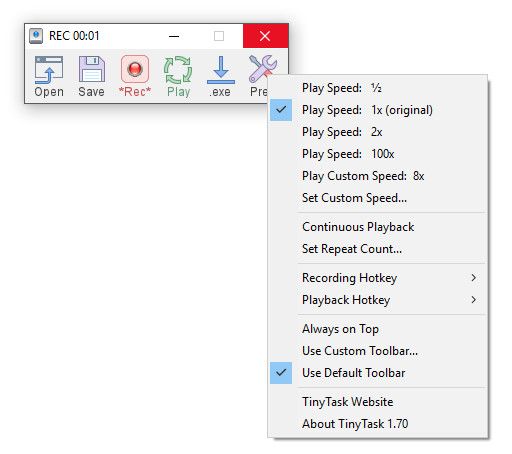 Lightweight app for repetitive tasks
As you can see from the program's name, this software is pretty lightweight. We can run this software without consuming many system resources, but we can also download and install it in less than 1 minute. By allowing TinyTask to automate some of our tasks, we can save time and use it somewhere else. Unlike complicated software existent on the Web, this one doesn't require the user to possess scripting knowledge or know all the ins and outs of computers.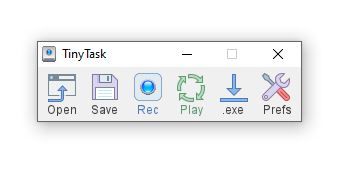 Use the friendly UI to record and save macros
If you desire to automate certain activities at your computer, you can try this simple app. Its graphical user interface features a small window layout where you can access all its features. Here you will find buttons that you can use to start and stop the recording process. Once TinyTask records and saves the macro, you can play it back at preset and custom speeds. You can also set which keyboard combinations to use for recording and playing the macros through the app's main window. Besides setting the playback speed, users can also adjust the number of repeats.
I appreciate the way this app works because it's unintrusive. We can continue to perform our daily computer tasks without being hindered by TinyTask. The small window runs in the background. However, if you want this application to always show up on your screen, all it takes to make that possible is to enable the Always on Top setting.
Save your routine as an executable file
Users can configure the program to store its settings inside an INI file, and you can copy the executable and the INI file on new systems any time you want. Other features include support for app switching using Alt+Tab, the ability to compile macro as an executable file, countdown, and more. Why would you want to transform the micro into an EXE file? Because it's easier to manage and run each time you need it. Even though TinyTask doesn't provide tutorials and help guides, the reality is that we don't need them. In my opinion, this software is friendly enough to make life easy for both experienced and inexperienced computer users.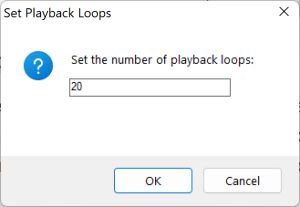 Simple process to create macros
Creating a macro is straightforward by following these steps: start the app, tap the Record button, carry on with the repetitive actions, and when ready, stop the recording. Please know that this software records everything you do on the screen, from opening a file to visiting a website. In addition, TinyTask is also available in a portable format if users are looking after it. The advantage of the latter is that it doesn't require installation. We can carry the program on USB flash drives and run it with one click. In conclusion, TinyTask is one of the best lightweight tools for recording and playing macros on Windows systems.
Download TinyTask for Windows